Multicrystalline silicon modules will keep rising in the PV industry in 2014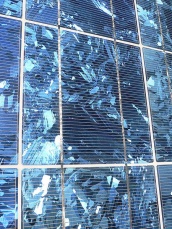 The photovoltaic manufacture is said to reach a 50 GW a landmark in 2014. As NPD Solarbuzz reports, the progressive p-type multi segment will see the  biggest technology share gain in the up-coming year. They also say that Space-constrained PV deployment, as it is sayd in Japan, is responsible for the growth in high-efficiency c-Si modules.
Moreover, as NPD Solarbuzz PV Equipment Quarterly shows, the manufacturing of multicrystalline-silicon (c-Si) modules is going to be ahead in the PV production  in 2014, and p-type multi c-Si technology wu=ill stand for 62% of all manufactured modules.
Solar PV producers are willing to increase module production by 25% next year to 49.7 GW of modules, as now there are GW of modules. Solarbuzz says the forecast is updated and the end-market request for solar PV will reach 45 to 55 GW in 2014.
"PV manufacturers continue to prioritize cost-reduction across the entire c-Si value-chain, with improvements in efficiency coming mainly from higher-quality multi c-Si wafers," is the opinion of Finlay Colville, NPD Solarbuzz vice president. "While there will inevitably be short-term supply issues throughout the year, polysilicon and wafer supply is considered adequate for 45 to 50 GW of c-Si module shipments in 2014", he added.
He also said that Chinese cell and module suppliers will have a flexible producing strategy going on and the new capacity will arise in the second half of the next year.
The film production will still lose market share going from 9.4% in 2013 to 8.9% in 2014. Those who invest in the latest thin film manufacturing equipment are fewer with an an eight-year low this year, but are said to increase two years from now, as suppliers from now and new comers into the market add capacity, as the report shows.
By 2014, Solar Frontier and First Solar, the main thin-film suppliers, will roughly manufacture about 85% of all thin-film modules, as predicted by NPD Solarbuzz.
The basic p-type multi c-Si modules will once more be the world's top technology, in account with 35% of PV modules produced in 2014. Yet still, the technology with the most powerful share earnings will come from the state-of-the-art p-type multi segment that include double screen-printing, selective emitters, rear-surface passivation and ion-implanting. This sector will develop from 23.8% to 27.2% in 2014.
Although the share of these potent p-type mono and n-type arrays will reduce from 29.6% to 29.3 in 2014, the production will increase with 2.8 GW in 2014, a growth in correspondence with the developing industry. The leading Chinese c-Si suppliers will increase production of p-type multi c-Si products will also increase production.
Leading Chinese c-Si suppliers will continue to increase production of p-type multi c-Si products during 2014 as the fastest route to restoring operating margins to pre-2012 levels. "This tactic is complemented by a highly cautious approach to transitioning next-generation technologies from the research lab to mass production. This dual strategy will continue to be the major barrier to any common technology roadmap being implemented within the solar PV industry over the next two to three years," their report declared.
Multicrystalline silicon modules will keep rising in the PV industry in 2014

,
Short URL: https://solar-magazine.com/?p=3223
Posted by
admin
on Oct 25 2013. Filed under
_featured slider
,
Asia
,
Solar PhotoVoltaics
. You can follow any responses to this entry through the
RSS 2.0
. You can leave a response or trackback to this entry