MITHRIL gmbH has been advised by HFG China and Deutsche Mittelstandsfinanz to go on with the transaction of Global Solar Energy to Hanergy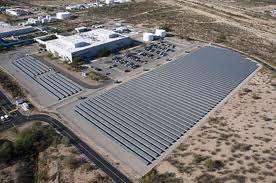 Advice has been offered by HFG China and Deutsche Mittelstandsfinanz to Mithril GmbH, a German family business, who represents 100% of the shares in the selling of Gloal Solar Energy, Inc .to Hanergy.
Since its foundation in 1996, Global Solar has always been a pioneer in the PV production. This is the world leading manufacturing company in extensive construction of CIGS (Copper Indium Gallium diSelenide) with the light-weight, highly effective renewable energy products that reside with flexible cells, arrays, and integrated shingles. These arrays are laid out for crucial parts of the high-end, high-growth malleable PV trade, especially when glass array systems are inadequate because of their weight constraints and the necessities for flexibility. GS (Global Solar) changes the traditional glass array products, designing integrated PV (BIPV) roof systems. The thin film production within the facility of the company is 40 MW annually. 
Being the world's top thin-film PV company, Hanergy Holding Group Ltd. is a global clean-energy power producer. Hanergy employs in the unification of the entire PV industry chain, and to withhold R&D, top quality equipment construction, PV array manufacturing and de the development of PV power plants.
After the development of GS into a mass extent manufacture company, it raises the need for a large international strategic associate in order to market their one of a kind technology. By purchasing Global Solar, Hanergy is increasing its competence and service offering in the thin film section, which represents an important goal in the growth strategy.
HFG China and Deutsche Mittelstandsfinanz are glad to empower the transaction with the restructuring expert Johann Stohner of Alvarez & Marsal and Chris LeWand of FTI Capital Advisors. The two companies represented joint financial advisors to Mithril GmbH.
Roxana Moraru
MITHRIL gmbH has been advised by HFG China and Deutsche Mittelstandsfinanz to go on with the transaction of Global Solar Energy to Hanergy

,
Short URL: https://solar-magazine.com/?p=3012
Posted by
admin
on Jul 25 2013. Filed under
_featured slider
,
Asia
,
Energy Market
,
Europe
,
Market News
,
Solar PhotoVoltaics
. You can follow any responses to this entry through the
RSS 2.0
. You can leave a response or trackback to this entry