The first kerosene free lighting state in India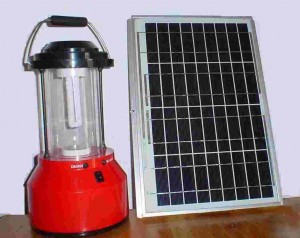 The state government of Chhattisgarh in central India will become the first state of the country which is going to replace kerosene powered lanterns for lighting homes by LED based solar lanterns and solar study lamps.
On December 5, 2012, the two programmes "One child One Solar lamp" and "Solar for each family" were launched. The state government decided it will distribute free solar lighting systems to 1.3 million families as well as free solar study lamps to about 1.65 million school students. The implementation of the scheme will cost the exchequer approximately Indian Rupees INR 2.05 billion (about € 30 million).
Chhattisgarh Renewable Energy Development Agency (CREDA) will be the agency to implement the programme.
The scheme is based on findings of Census 2011 where it came to the fore that approximately 1.3 million families in Chhattisgarh are still deprived of electricity.
These families use kerosene or fire wood to illuminate their houses. The government provides a subsidy of INR 0.32 per litre of kerosene, while allocated quota for each family is about 3 to 4 litres kerosene every month. Thus the government spends approximately INR 100 to INR 120 per month per family. In addition, each family spends INR 50 to INR 60 per month. The distribution of solar lanterns to about 1.3 million families will save the government subsidies of approximately INR 1.43
billion annually and it will save family expenditure of approximately INR 0.78 billion. Solar lanterns would cost close to INR 1,200 each and solar study lamps will only cost INR 300 each.
The first kerosene free lighting state in India

,
Short URL: https://solar-magazine.com/?p=2663
Posted by
solar-magazine.com
on Dec 15 2012. Filed under
_featured slider
,
INDUSTRY
,
Solar PhotoVoltaics
,
Technology
. You can follow any responses to this entry through the
RSS 2.0
. You can leave a response or trackback to this entry