A NASA spacecraft will fly to Jupiter using solar power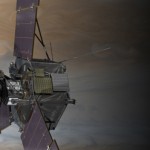 NASA's new mission to Jupiter will be undertaken by a windmill-shaped spacecraft.
The spacecraft will be powered almost entirely by solar power.
Named Juno, the spacecraft will have 2 billion mile journey ahead.

The Juno explorer will be the most distant probe ever powered by the sun.
The spacecraft is outfitted with three huge solar panels and is scheduled to lift off from the Kennedy Space Centre in the US state of Florida on Friday morning.
An unmanned Atlas V rocket will carry her into space.
Scott Bolton, Juno's principal investigator, said the mission, coming just two weeks after the final flight of the manned space shuttle, shows that NASA is not fading into oblivion.
It will take Juno five years to reach its target, five times farther from the sun than Earth. No spacecraft has ever ventured so far, powered by solar wings.
The European Union's solar-powered, comet-chasing Rosetta probe made it as far as the asteroid belt between the orbits of Mars and Jupiter.
The three wings of Juno are 29 feet long and 9 feet wide, necessary given that Jupiter receives 25 percent less sunlight than Earth.
Juno's panels will provide 400 watts of power. In orbit around Earth, these panels could generate 35 times as much power.
NASA is preparing a new solar mission next month – the Grail mission during which two spacecraft will be fly to the moon – will also be solar powered.
A NASA spacecraft will fly to Jupiter using solar power

,
Short URL: https://solar-magazine.com/?p=1756
Posted by
solar-magazine.com
on Aug 3 2011. Filed under
_featured slider
,
BUSINESS
,
INDUSTRY
,
Market News
,
Solar PhotoVoltaics
,
USA
,
WORLD
. You can follow any responses to this entry through the
RSS 2.0
. You can leave a response or trackback to this entry