Top 10 clean energy states in U.S.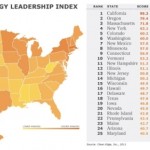 Promoting green technology is on the rise.
An extensive study released Wednesday by consulting firm Clean Edge offers some results.

The survey used more than 3,500 data points to evaluate all 50 states in the U.S.
Factors for evaluating each state included: the amount of green-tech related patent activity; the amount of green-tech venture capital being invested; the number of alternative fuel, electric, and hybrid vehicles registered in the state; and the percentage of electricity produced from clean sources.
The following states are ranked in the Top 10 for leading in green tech:
1.     California
2.    Oregon
3.    Massachusetts
4.    New York
5.    Colorado
6.    Washington
7.    New Mexico
8.    Minnesota
9.    Connecticut
10.  Vermont
California has the most money for backing up all those green-tech projects and has some of the most progressive environmental policies.
The state attracts more green-tech venture capital than all the other states in the U.S. combined.
California is also leading in clean-energy:
1.    California
2.    Massachusetts
3.    Oregon
4.    Colorado
5.    New Jersey
6.    Connecticut
7.    New York
8.    Maryland
9.    Washington
10.  Minnesota
Top 10 clean energy states in U.S.

,
Short URL: https://solar-magazine.com/?p=1427
Posted by
solar-magazine.com
on May 23 2011. Filed under
_featured slider
,
Analysis & Features
,
BUSINESS
,
Energy Market
,
INDUSTRY
,
Legislation
,
MARKETING
,
USA
,
WORLD
. You can follow any responses to this entry through the
RSS 2.0
. You can leave a response or trackback to this entry