The new Wave Power Device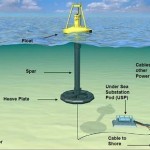 Ocean Power Technologies Inc. has announced that it has completed the first of its new generation utility-scale PowerBuoy device, the PB150. The PB150 Powerbuoy has a peak-rated power output of 150 Kw and is the largest, most powerful wave power device build by the company.
Ocean Power Technologies Inc. is a leader in wave energy technology. The PB150 PowerBuoy will have the equivalent to the energy consumption of approximately 150 homes – the PB150 is designed for use in arrays for grid-connected power generation projects worldwide, according to a press release.
The device is currently being prepared for ocean trials at a site approximately 33 nautical miles from Invergordon, off Scotland's northeast coast. These sea trials are expected to commence as soon as weather conditions permit. The company is seeking additional financing for the commercial utilization of the buoy after the trial phase is completed, including its possible deployment at various potential sites.
A second PB150 is already under construction in the US for a proposed utility-scale project in Oregon, and the company is involved in other planned projects in Australia, Japan and Europe that may utilize the PB150.
Source: http://www.tomorrowisgreener.com/the-next-generation-wave-power-device/
The new Wave Power Device

,
Short URL: https://solar-magazine.com/?p=624
Posted by
solar-magazine.com
on Mar 29 2011. Filed under
_featured slider
,
Gadgets
,
INDUSTRY
,
MARKETING
,
USA
,
Wave power
,
WORLD
. You can follow any responses to this entry through the
RSS 2.0
. You can leave a response or trackback to this entry