Using wing waves to produce electricity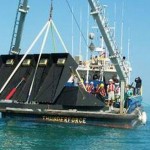 Just like wind mills and wind turbines that generate power and electricity from the wind, scientists are now working to generate power from the sea. Stephen Wood, an assistant professor of marine and environmental systems at Florida Institute of Technology's College of Engineering is working on this technology for its advance and proper use. This technology will use Wing waves in a very efficient way to generate electricity and power from the sea.
The wing waves technology to produce electricity and power from sea is a project initiated by a renewable energy firm from Tallahassee called the Clean and Green Enterprises. This firm has been working in this area since the past five years.
According Wood, about 200,000 houses can be lit with the help of one square miles of wings that produce around 1000 units of electric power. Power is generated by changing elliptical motion wave into mechanical energy after trapping it 30 feet to 60 feet below the sea.
To use Wing waves to produce electricity from the sea, there are two basic requirements: depth of 40 to 50 feet and a sandy bottom. Sea fans are placed on the sandy base. Though, bigger wings can be used to tap water to make electricity but for that the plant to make these wings has to be situated near the ocean. Till then, the fans having trapezoid-shaped wings that are 8 feet tall and 15 feet wide will continue to be used and they will be transported through road. The height and the width of the wings are carefully made so that they can be transported by the road and can be easily placed under the sea.The chief executive with Clean and Green Enterprises Inc., Terence Bolden says that the wings sway 30 degrees from side to side. They take 8 to 10 seconds to complete every arc. In this process, they produce electricity.
Source: www.alternative-energy-news.info/electricity-from-wing-waves/
Using wing waves to produce electricity

,
Short URL: https://solar-magazine.com/?p=469
Posted by
solar-magazine.com
on Mar 22 2011. Filed under
INDUSTRY
,
Wave power
. You can follow any responses to this entry through the
RSS 2.0
. You can leave a response or trackback to this entry