Geothermal projects get started in USA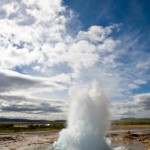 The United States' geothermal industry is cautiously celebrating the return of investors to hot projects that had cooled off with the recession.
The Geothermal Energy Association (GEA) expects at least a half-dozen idled projects to finally begin construction in the next three years thanks to $6 billion in renewed investments, including a $96.8 million U.S. Department of Energy loan guarantee announced last week for the 23 MW Neal Hot Springs power plant in Eastern Oregon.
"There are probably more geothermal projects under development today in the United States than there has ever been in U.S. history," said GEA Executive Director Karl Gawell.
The GEA hopes to release better estimates at the end of the month, so it is still unclear how many projects will actually get enough funding for completion. For now, Gawell says he has accumulated anecdotal evidence that more investors are picking up where they left off in 2008 and 2009.
Though exploration has all but stopped, the industry is hopeful that the extension of the Section 1603 Tax Credit program could provide a cash incentive for new development. Some say federal grants could also help jump-start investment in rapidly advancing low-temperature technology, creating the potential for a new wave of next-generation projects.
Some of the biggest geothermal developers are not yet convinced that 2011 will be the time to invest in the costly drilling of new exploration wells. Since the U.S. has become mired in the politics of climate change, there are no guarantees that cash grants through a one-year tax credit extension will sustain growth beyond 2011.
Yes even amid all the uncertainty in the U.S., Ormat and other developers are focusing attention overseas, where developing countries view geothermal resources as less expensive alternatives to coal power plants.
"When things are slow in the U.S. … our sales folks are developing projects in the ring of fire region in places with prolific geothermal resources, like Indonesia," said Ormat spokesman Paul Thompson.
GEA estimates the addition of at least 1,000 MW of U.S.-based geothermal projects in the next three years.
Source: www.renewableenergyworld.com
Geothermal projects get started in USA

,
Short URL: https://solar-magazine.com/?p=194
Posted by
solar-magazine.com
on Mar 14 2011. Filed under
_featured slider
,
BUSINESS
,
Geothermal
,
INDUSTRY
,
Market News
,
USA
,
WORLD
. You can follow any responses to this entry through the
RSS 2.0
. You can leave a response or trackback to this entry