Wind power could be stored in water under Germany's mountains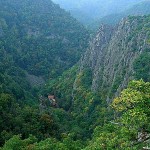 Germany hopes to meet the country's electricity demands only with renewable sources by 2050.
This ambitious dream reflects on their green investment particularly in the fields of solar and wind energy.

Germany plans to store energy generated by wind turbines in water pump storage facilities under the mountains.
This first project in the world is made after a Marko Schmidt study.
The study was to build a plant in the abandoned Wiemannsbucht mine shaft in Bad Grund, a town in the western Harz Mountains.
Pumped-storage hydroelectricity plants work by using power from solar or wind turbine sources to pump water from one tank to another above it.
When the sun goes in or the wind stops blowing and electricity is needed, the water from the top is released to the bottom tank – pushing through turbines as it goes and generating power.
Six of such large scale projects have been proposed for the West Harz region.
The first one will be in Bad Grund and will have the storage capacity of 400 megawatt hours, which is sufficient to allocate power to over 40,000 households per day.
This project has a lot of advantages because such plants can be constructed in abandoned mine-shafts and also the provision of additional green jobs.
Wind power could be stored in water under Germany's mountains

,
Short URL: https://solar-magazine.com/?p=1432
Posted by
solar-magazine.com
on May 24 2011. Filed under
_featured slider
,
BUSINESS
,
Energy Market
,
Europe
,
Geothermal
,
INDUSTRY
,
Market News
,
MARKETING
,
Technology
,
Wind
,
WORLD
. You can follow any responses to this entry through the
RSS 2.0
. You can leave a response or trackback to this entry