Solar Cell Made of a Single Molecule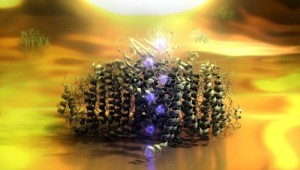 A method to measure the photocurrents of a 'single functionalized photosynthetic protein system' has now been developed by researchers.
The researchers are confident that they can show that such a system could be integrated and "selectively addressed" inside of an artificial photovoltaic device's architecture while still being able to retain its "biomolecular functional properties."
The researchers were investigating the photosystem-I reaction center — that's a chlorophyll protein complex that is located in the membranes of chloroplasts from cyanobacteria. Photosynthesis is used by algae, plants, and some bacteria in order to convert the Sun's energy into usable and storable chemical energy.
The primary challenge to the physicists was that they had to develop and master "a method to electrically contact single molecules in strong optical fields.
The research was the result of interdisciplinary cooperation between researchers, led by Joachim Reichert, Johannes Barth, and Alexander Holleitner (Technische Universitaet Muenchen, Clusters of Excellence MAP, and NIM), and Itai Carmeli (Tel Aviv University).
Solar Cell Made of a Single Molecule

,
Short URL: http://solar-magazine.com/?p=2592
Posted by
solar-magazine.com
on Oct 4 2012. Filed under
_featured slider
,
Market News
. You can follow any responses to this entry through the
RSS 2.0
. You can leave a response or trackback to this entry