`Green-computers` could become a reality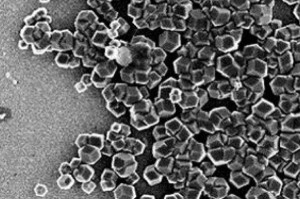 How could a `bio-computer` look like? This can be a dream but it can also become a dream.
The researchers at Leeds University are experimenting on the bacterium Magnetospirillum. This bacteria consumes nano-sized bits of iron and turns them into tiny magnets which it stores inside itself.
If all goes well in this experiment, we can see in future computers made out of these tiny things.The bacteria are found in pools of water that consist of various elements including iron. It extracts the iron using a special protein and build small bits of magnetite.
The research is still in the initial stages, the experiment could pave the way for the making of 'bio-computers'. For this we need also tiny wires.
This is where work done by Masayoshi Tanaka of Tokyo University of Agriculture and Technology comes in. The scientists constructed wires measuring just 40 nanometers in diameter, coated in a protein made out of artificial cells.
Experiments such as these help us to widen the road to future technology.
`Green-computers` could become a reality

,
Short URL: http://solar-magazine.com/?p=2207
Posted by
solar-magazine.com
on May 11 2012. Filed under
_featured slider
,
Gadgets
,
MARKETING
,
Technology
. You can follow any responses to this entry through the
RSS 2.0
. You can leave a response or trackback to this entry