Google – investments in green energy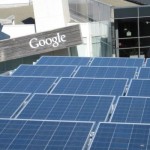 Web companies like Google are also investing in renewable energy with handsome profits. Google has invested over $915 million in this sector. The company has also taken it upon itself to make use of green and sustainable energy. Some of their corporate campuses utilize photovoltaic systems for solar energy and cogeneration units that make use of landfill gas to generate electricity. Google has also completed two PPAs with a commitment to purchase renewable energy from certain sources.

Google projects:
1. The project: Large scale solar PV in California
Google has invested $94 million in Recurrent Energy, a Sacramento-based company, for solar projects. The investment wil cover four solar projects that is hoped will significantly benefit California's energy needs.
88MW of power being produced, enough to sustain 13,000 homes.
2. The project: Clean Power Finance – providing financing for rooftop solar panels.
Startup company, Clean Power Finance, is being financed by Google to help third party installers place solar panels on rooftops as part of solar rooftop projects. The investment of $75 million will see about 10,000 homes being benefited by solar power.
3. The project: SolarCity – solar for thousands of residential rooftops. In one of the biggest investments by Google, $280million has gone into funding SolarCity for its residential solar market.
4. The project: Atlantic Wind Connection – a superhighway for clean energy transmission
Google's 37.5 equity stake in the Atlantic Wind Connection project by Trans-Elect Development Company will be able to generate a substantial 6000MW of power to large population centers in the Mid-Atlantic region.
5. The project: Shepherd's Flat – the world's largest wind farm. The investment: $100 million
Google – investments in green energy

,
Short URL: http://solar-magazine.com/?p=1854
Posted by
solar-magazine.com
on Jan 12 2012. Filed under
_featured slider
,
Analysis & Features
,
BUSINESS
,
INDUSTRY
,
Technology
,
USA
,
Wind
,
WORLD
. You can follow any responses to this entry through the
RSS 2.0
. You can leave a response or trackback to this entry