A new type of solar cells who can harness energy from infrared spectrum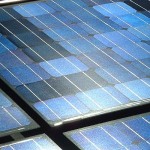 A new solar cell has been designed by researchers at the University of Toronto.
This solar cell can be useful in creating cost effective thin coatings capable of efficiently converting solar power into electricity.

The solar cell is based on colloidal quantum dots.
In search for an efficient infrastructure that would harness the potential of the sun's visible as well as infrared spectrum, the researchers have been successful in designing a device.
"The device is a stack of two light-absorbing layers — one tuned to capture the sun's visible rays, the other engineered to harvest the half of the sun's power that lies in the infrared," said lead author Dr. Xihua Wang.
The CQD solar cells are made of nanoscale materials that can readily be tuned to respond to specific wavelengths of the visible and invisible spectrum.
This new devices can function with higher efficiency when compared to the conventional solar cells.
These solar cells can in principle reach up to 42 per cent efficiencies, while the best single-junction solar cells are constrained to a maximum of 31 per cent efficiency.
The solar cells that are packed into consumer goods or those that adorn roof tops have an average efficiency of 14-18 percent.
A new type of solar cells who can harness energy from infrared spectrum

,
Short URL: http://solar-magazine.com/?p=1565
Posted by
solar-magazine.com
on Jun 29 2011. Filed under
_featured slider
,
BUSINESS
,
Canada
,
Energy Market
,
INDUSTRY
,
Market News
,
MARKETING
,
Solar PhotoVoltaics
,
Technology
,
WORLD
. You can follow any responses to this entry through the
RSS 2.0
. You can leave a response or trackback to this entry