The new generation of green rocket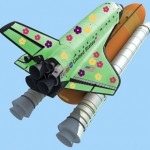 U.S. military researchers have developed a new generation of green rocket fuel.
The new green rocket fuel emits less corrosive and toxic chemicals than the conventional rocket propellants.

Typical rocket fuel is very toxic and creates environmental pollution because the fuel has a structure of propellant which contains high grade kerosene, rubber and chemicals like hydrazine, nitrogen tetroxide and nitrous oxide.
'One of the important requirements in the development of less hazardous liquid bipropellants for rocket propulsion is reduced vapor toxicity of oxidizer and fuel,' says propellants expert John Bellerby of Cranfield University, UK.
Also Bellerby adds that hydrogen peroxide is an attractive low-hazard alternative oxidizer and finding a fuel with low vapor toxicity that is hypergolic with this oxidizer and also produces a high performance has proved difficult.
Repeated tests have proved the hypergolicity of the hydrogen rich ionic-liquid fuels with hydrogen peroxide as the oxidizing agent, which can be considered as green bipropellants for the future.
This type of ionic liquids as the pioneer in liquid bi propellants and in the future and will bring out better and green performances.
The new generation of green rocket

,
Short URL: http://solar-magazine.com/?p=1409
Posted by
solar-magazine.com
on May 23 2011. Filed under
_featured slider
,
BUSINESS
,
Energy Market
,
INDUSTRY
,
Market News
,
MARKETING
,
Technology
,
USA
,
WORLD
. You can follow any responses to this entry through the
RSS 2.0
. You can leave a response or trackback to this entry