Reports regarding wind market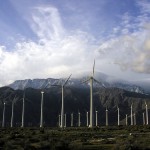 America's wind power industry grew 15 per cent last year, according to a new industry report which warned that the sector's expansion was held back by weak electricity prices and unpredictable policies.
The American Wind Energy Association (AWEA) yesterday unveiled its US annual report, showing that 5,116MW of new capacity was added last year, taking the total volume of US installations to 40,181MW, now generating enough electricity to power more than 10 million homes.
However, despite the increase in capacity, last year's growth was significantly lower than the average 39 per cent growth rate recorded in the previous five years.
The sector blamed weak electricity prices and investor uncertainty caused by doubts over whether key federal tax incentives would be extended for the relatively sluggish performance.
The report follows recently released figures from the Global Wind Energy Council (GWEC) which show that in 2009 China overtook the US in terms of the volume of new installations and manufacturing of wind turbines for the first time.
Denise Bode, AWEA chief executive, remained optimistic that the US was on track to produce 20 per cent of America's electricity by 2030 from wind energy, as predicted by the Department of Energy during the Bush administration.
"The American wind industry is delivering, despite competing with energy sectors that have permanent government subsidies in place," she said. "Wind is consistently performing … adding 35 per cent of all new generating capacity since 2007- that's twice what coal and nuclear added combined."
On top of new construction starts, the industry brought 14 new manufacturing facilities online in 2010, consistent with 2009, meaning that wind energy now accounts for up to 20,000 manufacturing jobs across 42 states.
"Continued interest and investment by manufacturers in America demonstrates that the US continues to be a global powerhouse for wind development, today and in the future," Bode added.
Meanwhile, a separate report released by GWEC has this week argued that India's potential for wind power development is higher than previously calculated, and could reach 65.2GW by 2020, up from 13.1GW at the end of 2010.
According to the Indian Wind Energy Outlook 2011, published yesterday by GWEC,  the World Institute of Sustainable Energy and the Indian Wind Turbine Manufacturers Association (IWTMA), India's potential for wind power development could exceed 100GW, reaching 160.7GW by 2030, if the potential of offshore wind power and repowering was fully exploited.
Achieving 65.2 GW of wind capacity by 2020 would attract around $10.4bn of annual investment to the sector and create 170,000 new jobs.
Source: www.businessgreen.com
Reports regarding wind market

,
Short URL: http://solar-magazine.com/?p=982
Posted by
solar-magazine.com
on Apr 8 2011. Filed under
_featured slider
,
Analysis & Features
,
BUSINESS
,
INDUSTRY
,
Wind
,
WORLD
. You can follow any responses to this entry through the
RSS 2.0
. You can leave a response or trackback to this entry