PowerMod – the new portable solar tent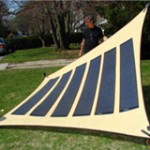 Think of the earthquake that happened at Tahiti, or havoc-provoking typhoons like Katrina; or the recent plane crash that took so many lives. With man-made or natural disasters occurring unexpectedly at all corners of earth, there has been a sharp demand for dependable portable energy sources that can make rescue efforts a lot easier and more successful. And to that effect, arrives PowerMod – the new portable solar tent ready to help in relief work to victims of disaster.
PowerMod is a simplest kind of shelter – a 20×20 foot roof of flexible panel. The flexible panel is made by integrating FTL Solar lightweight fabric and Ascent Solar's thin-film solar cells. It is supported in the center by a pole. It gives a power output of 4.5 kilowatt hours/day. It weighs about 165 pounds totally. It can be assembled in 15 minutes and does not need more than 2 persons to assemble it.
The energy used is solar power which has no fire hazards or poisonous fumes etc. Nor is there any need for huge containers to ferry across to the disaster site, at a huge cost eating into the relief-rescue expenditure. It works on clean emission-less energy, at low cost. It provides enough power to run essentials like lights, fans, laptops, refrigerators, AC equipment and to power up batteries, charge cell phones etc. It is portable, light-weight, needs just 2 persons and 15 minutes to be assembled and it looks neat and uncluttered.
Source: www.alternative-energy-news.info
PowerMod – the new portable solar tent

,
Short URL: http://solar-magazine.com/?p=942
Posted by
solar-magazine.com
on Apr 8 2011. Filed under
_featured slider
,
Gadgets
,
INDUSTRY
,
MARKETING
,
Solar PhotoVoltaics
. You can follow any responses to this entry through the
RSS 2.0
. You can leave a response or trackback to this entry