China is on track to install wind power capacity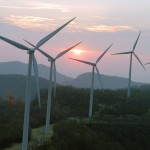 China is on track to install as much as 18 GWs of wind-power capacity this year as the world's second-biggest economy continues to diversify its energy resources, according to officials at Chinese Renewable Energy Industry Association
"We hope that that much capacity will come online this year," says Ma Lingjuan, the trade body's vice secretary general.
Though ambitious, the build up will be significantly smaller than the 25 GWs that went online last year.
If all goes well, the country will end 2011 with a total of 58 GWs of installed capacity, moving ahead with plans to install as much as 150-230 GWs over the next decade. China already has the world's largest installed wind capacity.
The new capacity will be state built and financed, like much else in China. According to observers, five national power companies – China Power Investment Group, Guodian, Datant, Huanent and Huadian will build the largest wind farms. So far, the largest of them is Datant's 400 MW farm in the Jiling province.
Overall, the country will invest 5000 RMB per kW (US $764) or about US $764,000 per MW of wind turbine capacity.  Ma says the price is declining fast, with some turbines selling for as little as 4000 RMB (US $611) per kW. State banks will fund the developers behind the projects but some international banks and the World Bank will also provide financing, she adds.
The bulk of the new capacity will be onshore with just 100 MW earmarked for offshore capacity in the Guangzhou province in Eastern China.
The Northeast provinces of Inner Mongolia, Hebei and Gansu will likely host most of the new projects, deepening their geographical lead in the industry. The three provinces account for 80% of installed capacity with Inner Mongolia taking up as much as one third.
When asked why China is putting so much money behind wind, Lingjuan says the technology is cheaper to develop than solar or biomass, where the collection of raw material is very challenging in China.
"Wind power is the most economically feasible technology that can be developed at a large scale," she adds.
Wind is likely to lead China's renewables agenda.  The country hopes to derive 15% of its power generation from clean energy by 2020.
Source: www.renewableenergyworld.com
China is on track to install wind power capacity

,
Short URL: http://solar-magazine.com/?p=934
Posted by
solar-magazine.com
on Apr 7 2011. Filed under
_featured slider
,
Asia
,
INDUSTRY
,
Wind
,
WORLD
. You can follow any responses to this entry through the
RSS 2.0
. You can leave a response or trackback to this entry