Two leading wind turbine manufacturers launched new machines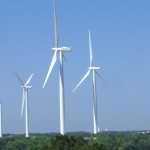 Two leading wind turbine manufacturers have launched new machines designed to boost energy output from less windy areas such as forests and hillsides, expanding the number of potential sites for wind farm developments.
General Electric (GE) yesterday unveiled plans for taller towers for its line of onshore turbines that will allow wind farm developers to install turbines with hub heights of at least 130 metres.
GE claims that the design will particularly suit densely forested areas and hillside locations which are prone to high levels of wind turbulence.
"With taller towers, more sites become attractive wind farm locations," said Stephan Ritter, general manager of GE Renewable Energy Europe. "The increased height also offers more customer value through higher winds and a reduction in the impact of turbulence resulting in higher annual energy production."
GE will initially offer the tall towers for customers of its 2.5MW series of turbines, including the new 2.75-103 wind turbine. The company added that it will target developers in Germany, Scandinavia, Poland, Romania and Canada with the new towers.
Meanwhile, Spanish wind turbine manufacturer Gamesa yesterday launched a new addition to its 4.5MW range that also aims to boost energy output at low wind sites.
The new G128-4.5 MW turbine will have a 136-metre rotor diameter, offering a swept area of 14,527 square metres. Gamesa hopes the machine will increase the annual energy output of a turbine by up to eight per cent at low-wind sites, compared to the previous G128-4.5 MW model.
"The G136-4.5 MM, now commercially available for installation in 2012, benefits from the exhaustive validation and testing programme conducted on the G10X-4.5 MW platform," said Javier Perea, Gamesa sales and projects general manager.
Source: www.businessgreen.com
Two leading wind turbine manufacturers launched new machines

,
Short URL: http://solar-magazine.com/?p=864
Posted by
solar-magazine.com
on Apr 5 2011. Filed under
_featured slider
,
BUSINESS
,
INDUSTRY
,
Market News
,
Wind
. You can follow any responses to this entry through the
RSS 2.0
. You can leave a response or trackback to this entry