New advance in biofuel technology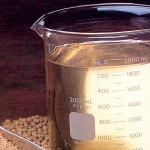 U.S. Energy Secretary Steven Chu congratulated a team of researchers at the Department's BioEnergy Science Center who have achieved yet another advance in the drive toward next generation biofuels: using bacteria to convert plant matter directly into isobutanol, which can be burned in regular car engines with a heat value higher than ethanol and similar to gasoline. This research is part of a broad portfolio of work the Department is doing to reduce America's dependence on foreign oil and create new economic opportunities for rural America.
BACKGROUND ON THE SCIENTIFIC ADVANCE ANNOUNCED TODAY
The work was conducted by researchers at the Department of Energy's BioEnergy Science Center (BESC), led by Oak Ridge National Laboratory. Using consolidated bioprocessing, a research team led by James Liao of the University of California at Los Angeles for the first time produced isobutanol directly from cellulose. The team's work, published online in Applied and Environmental Microbiology, represents across-the-board savings in processing costs and time, plus isobutanol is a higher grade of alcohol than ethanol.
"Unlike ethanol, isobutanol can be blended at any ratio with gasoline and should eliminate the need for dedicated infrastructure in tanks or vehicles," said Liao, chancellor's professor and vice chair of Chemical and Biomolecular Engineering at the UCLA Henry Samueli School of Engineering and Applied Science and a partner in BESC. "Plus, it may be possible to use isobutanol directly in current engines without modification."
Source: http://energyportal.eu/latest-green-energy-news/9681-energy-department-announces-new-advance-in-biofuel-technology.html
New advance in biofuel technology

,
Short URL: http://solar-magazine.com/?p=680
Posted by
solar-magazine.com
on Mar 31 2011. Filed under
_featured slider
,
Biomass
,
Energy Market
,
INDUSTRY
,
MARKETING
,
USA
,
WORLD
. You can follow any responses to this entry through the
RSS 2.0
. You can leave a response or trackback to this entry