MiraQua: the green car without carbon footprint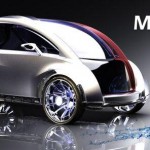 Today there seems to be more and more and yet more vehicles on the road than ever. Everybody wants to have their own transport and a smaller car with least carbon emission seems to be an ideal solution for this inexhaustible number of cars that seem to be coming up. Tiny cars electrically driven but looking unique in design and performance may be the ideal solution, according to Chaoyi Li, designer of the MiraQua car. Though he designed this as a solution for Australia and China's excessive traffic congestion, this car can become popular all over.
MiraQua designer, Chaoyi Li, has done a thorough job of designing this unique-designed small green concept car tailor-made for improving urban life quality. He had carried out through sketching, body storming practices, mock-up modeling in various media include styling foam, crafting clay and metal wire etc., and digital model making in Autodesk Studiotools. The name also refers to the smooth flow of the vehicle-traffic like that of a water stream.
With MiraQua being a totally electrical car, there are no carbon emissions. The very driving force behind the development of this car was the desire of its designer to reduce fossil fuel dependency and using optimally minimal road space for commuting and parking. This he has achieved with the creation of MiraQua.
It is heartening to see more and more efforts focused to contain the carbon print on our universe and reduce fossil fuel dependency. When individual transportation becoming a way of life, it is good to have a small car that will not hog road space. It is all the more better in having a green sensitive vehicle that will be eco-friendly and leave no carbon footprint.
Source: www.alternative-energy-news.info/miraqua-electric-car/
Today there seems to be more and more and yet more vehicles on the road than ever. Everybody wants to have their own transport and a smaller car with least carbon emission seems to be an ideal solution for this inexhaustible number of cars that seem to be coming up. Tiny cars electrically driven but looking unique in design and performance may be the ideal solution, according to Chaoyi Li, designer of the MiraQua car. Though he designed this as a solution for Australia and China's excessive traffic congestion, this car can become popular all over.MiraQua designer, Chaoyi Li, has done a thorough job of designing this unique-designed small green concept car tailor-made for improving urban life quality. He had carried out through sketching, body storming practices, mock-up modeling in various media include styling foam, crafting clay and metal wire etc., and digital model making in Autodesk Studiotools. The name also refers to the smooth flow of the vehicle-traffic like that of a water stream.With MiraQua being a totally electrical car, there are no carbon emissions. The very driving force behind the development of this car was the desire of its designer to reduce fossil fuel dependency and using optimally minimal road space for commuting and parking. This he has achieved with the creation of MiraQua.It is heartening to see more and more efforts focused to contain the carbon print on our universe and reduce fossil fuel dependency. When individual transportation becoming a way of life, it is good to have a small car that will not hog road space. It is all the more better in having a green sensitive vehicle that will be eco-friendly and leave no carbon footprint.
Source: www.alternative-energy-news.info/miraqua-electric-car/
MiraQua: the green car without carbon footprint

,
Short URL: http://solar-magazine.com/?p=668
Posted by
solar-magazine.com
on Mar 30 2011. Filed under
_featured slider
,
Gadgets
,
INDUSTRY
,
MARKETING
,
Technology
. You can follow any responses to this entry through the
RSS 2.0
. You can leave a response or trackback to this entry