In five years iPods will be powered by our heartbeat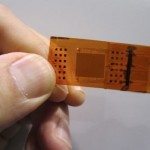 According to the American Chemistry Society, researchers including lead scientist Zhong Lin Wang, Ph.D. of Georgia Institute of Technology, have spent the last six years working on a commercially viable nanogenerator that uses the body's movements to generate electricity. And they've finally hit a breakthrough. They've created a flexible chip that currently generates electricity when it is squeezed between two fingers (but will eventually use our very pulse) to create a charge.
"This development represents a milestone toward producing portable electronics that can be powered by body movements without the use of batteries or electrical outlets," said lead scientist Zhong Lin Wang, Ph.D. "Our nanogenerators are poised to change lives in the future. Their potential is only limited by one's imagination."
Their latest iteration of the nanogenerator stores generated electricity in a capacitor, and was efficient enough to run LCDs, LEDs and laser diodes. The team is working on ramping up the voltage by 150 times so that it can be functional in daily life, charging MP3 players and other small handheld devices, environmental sensors powered by wind, and even devices in the medical industry like insulin pumps powered by heartbeats.
Source:www.treehugger.com/files/2011/03/ipods-powered-with-our-heartbeat-within-5-years-scientists-say-yes.php?campaign=th_rss_science
In five years iPods will be powered by our heartbeat

,
Short URL: http://solar-magazine.com/?p=651
Posted by
solar-magazine.com
on Mar 30 2011. Filed under
_featured slider
,
INDUSTRY
,
Technology
. You can follow any responses to this entry through the
RSS 2.0
. You can leave a response or trackback to this entry