Green house built by The Fab Academy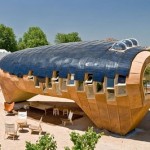 Built by the Institute for Advanced Architecture of Catalonia (IAAC), Fab Lab House is a fully constructed project to provide energy efficiency and sustainability.
One of the features that impressed with this project is that the house is capable of generating up  to three times more energy due to rooftop solar panels. A detail of the construction are the plywood panels that are standardized (1220 x 1440mm) and used throughout the project in this dimension.
The Institute for Advanced Architecture of Catalonia is one of the leading educational and research center dedicated to the development of an architecture to address the global challenges in building comfort in the 21 century. Based on the 22 @ district of Barcelona, one of the main cities in the world of architecture and urban planning, IAAC is a platform for sharing knowledge with teachers and students from over 25 countries including USA, China. India, Poland, Italy, Mexico and Sudan. The students work on multiple scales
(urban, design, production) and in various fields (ecology, energy, digital manufacturing, new technologies), to pursue their  own research to develop an integrated skills to effectively in their home country or the world.
IAAC organizes the Master in Advanced Architecture of Vicente Guallart, Willy Müller and Marta Malé Alemany, in collaboration with the Polytechnic University of the UPC. Open-process inventory is open to students of the Master of Architecture PhD worldwide. The Fab Academy is part of the worldwide network of Fab Labs with the MIT Center for Bits and Atoms connected.
Source:www.ecosystemdiscovery.com/2011/02/eco-fab-lab-house.html
Green house built by The Fab Academy

,
Short URL: http://solar-magazine.com/?p=655
Posted by
solar-magazine.com
on Mar 30 2011. Filed under
_featured slider
,
Europe
,
Green Buildings
,
INDUSTRY
,
WORLD
. You can follow any responses to this entry through the
RSS 2.0
. You can leave a response or trackback to this entry