First floating solar power plant in India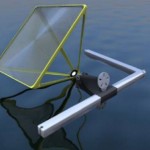 Tata Power is joining hands with the Sunengy Pty Ltd, an Australian solar power company to set up India's first floating solar plant. It would be a low cost plant as the economic floating solar technology invented by Sunengy is going to be used. According to Mr.Banmali Agrawala, the executive director of Tata Power, India's private electrical utility provider, Tata Power plans to set this floating solar unit on water that in the company's quest for providing sustainable energy that is also eco-friendly. As this would be set on water surface land competition can be reduced considerably and it can be used for other purposes.
According to Mr.Phil Connor, executive director and chief technology officer of Sunengy, this plant would be built using their patented Liquid Solar Array (LSA) technology. LSA technology works by converting a large water source like a dam into a battery that can store solar energy. Such a setup would be a better method of water management and does not require acquisition of vast land.
Basically concentrated photovoltaic (CPV) technology will be used to make the solar cells floating on water. This floating reduces the cost of mounting solar cells on costly and strong supporting structures. This also makes the structure cyclone proof. Thus a lens and an array of solar cells would track sunlight throughout the day. In bad weather conditions the lens and cells would get submerged under water. However, this cooling would increase the life and efficiency of the cells and the lens.
The pilot plant in India would be commenced only in August 2011. Meanwhile, Sunengy would establish a larger LSA in the NSW Hunter Valley by mid 2012. Tests for the Indian units would be done at the CSIRO Energy Center in New Castle, New South Wales, Australia.
Thus by setting such a low cost solar plant, Tata Power can make a breakthrough by providing power at a reduced cost. The success of this plant can certainly be an eye-opener for using solar power extensively.
Source: www.ecofriend.com/entry/india-s-first-floating-solar-plant-by-tata-power-and-sunengy/
First floating solar power plant in India

,
Short URL: http://solar-magazine.com/?p=648
Posted by
solar-magazine.com
on Mar 30 2011. Filed under
_featured slider
,
Asia
,
INDUSTRY
,
Solar PhotoVoltaics
,
WORLD
. You can follow any responses to this entry through the
RSS 2.0
. You can leave a response or trackback to this entry