The world's largest biomass plant approved by Environment Agency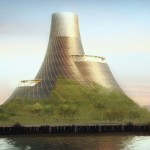 Work can now move forward on the world's largest wood-burning power plant, after the Environment Agency in Wales waved through less stringent emission limits for the £400m plant.
Developers Prenergy last year asked the Agency to increase emission limits for nitrous oxide, sulphur dioxide and hydrogen chloride from the proposed plant in Port Talbot, South Wales.
Following an in-depth investigation, the Agency indicated it did not think the more relaxed limits would affect public health or breach government air quality guidelines.
The watchdog confirmed its findings and granted changes to the project's Environmental Permit that would allow it to operate with increased emissions. The Agency also agreed to allow the 350MW facility to burn wood pellets as well as wood chip.
It said the limits were still well within the guidelines suggested by the government. For example, the rise in sulphur dioxide limits to 50mg/m3 is only a quarter of the 200mg/m3 guideline figure.
"After an in-depth examination of the changes that Prenergy applied for, we are confident that the permit will continue to require the high standards needed to protect local people and air quality in Port Talbot," said Mary Youell of Environment Agency Wales. "If we thought these changes would compromise air quality standards or the communities we protect, we would not be accepting them."
Prenergy first unveiled its plans for the plant in 2007 and estimates that, once constructed, it will be capable of powering 500,000 homes.
Source: http:www.businessgreen.com/bg/news/2037357/giant-port-talbot-biomass-plant-approved-air-quality-deal
The world's largest biomass plant approved by Environment Agency

,
Short URL: http://solar-magazine.com/?p=612