Travelling around USA by waste vegetable oil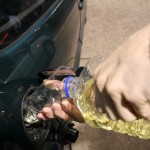 Here is a young traveler, Stacy Jurich, 2006 graduate of Ohio State University. She is on a 3 ½ month journey across the country, driving her 1981 Mercedes across America. So what is new? She is driving a Mercedes using waste vegetable oil as fuel hence promoting use of alternative fuel. She lives in Toledo, Ohio where she shoulders the responsibility of running a non-profit organization known as "Toledo Choose Local." This non-profit organization promotes self sustenance using local resources.
Stacy procured her Mercedes online which is equipped as a "grease car". Any vehicle driven on diesel fuel can use WVO (waste vegetable oil) with a converter kit. The converter kit's cost ranges from a few hundred to a few thousand dollars. When the winter approaches and temperatures fall, people driving a vehicle on WVO have to buy additional equipment to heat the oil because it can get too thick. The veggie oil that Stacy Jurich is using for her trip, is an environmental friendly fuel because it emits about 25 to 40% less carbon monoxide than regular diesel along with yielding the same, if not better, miles per gallon than diesel.
Source: www.alternative-energy-news.info/trans-america-journey-powered-by-waste-vegetable-oil/
Travelling around USA by waste vegetable oil

,
Short URL: http://solar-magazine.com/?p=541
Posted by
solar-magazine.com
on Mar 25 2011. Filed under
_featured slider
,
USA
,
WORLD
. You can follow any responses to this entry through the
RSS 2.0
. You can leave a response or trackback to this entry