A new technology for making renewable petroleum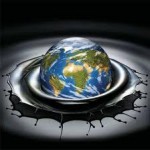 University of Minnesota researchers are a key step closer to making renewable petroleum fuels using bacteria, sunlight and carbon dioxide. Graduate student Janice Frias, who earned her doctorate in January, made the critical step by figuring out how to use a protein to transform fatty acids produced by the bacteria into ketones, which can be cracked to make hydrocarbon fuels. The university is filing patents on the process.
Aditya Bhan and Lanny Schmidt, chemical engineering professors in the College of Science and Engineering, are turning the ketones into diesel fuel using catalytic technology they have developed. The ability to produce ketones opens the door to making petroleum-like hydrocarbon fuels using only bacteria, sunlight and carbon dioxide.
"There is enormous interest in using carbon dioxide to make hydrocarbon fuels," Wackett says. "CO2 is the major greenhouse gas mediating global climate change, so removing it from the atmosphere is good for the environment. It's also free. And we can use the same infrastructure to process and transport this new hydrocarbon fuel that we use for fossil fuels."
The research is funded by a $2.2 million grant from the U.S. Department of Energy's Advanced Research Projects Agency-energy (ARPA-e) program, created to stimulate American leadership in renewable energy technology.
Source: www.sciencedaily.com/releases/2011/03/110323135635.htm
A new technology for making renewable petroleum

,
Short URL: http://solar-magazine.com/?p=545
Posted by
solar-magazine.com
on Mar 25 2011. Filed under
_featured slider
,
INDUSTRY
,
Technology
,
USA
,
WORLD
. You can follow any responses to this entry through the
RSS 2.0
. You can leave a response or trackback to this entry