The Eco-Box" technology will transform our breath in energy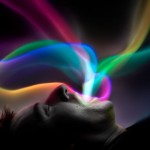 Scientist have already turned cooking oil, garbage, corn, algae to fuel. What next?  Scientists in the U.K are saying wait a second, your breath is not a waste; it might be a great source for future fuel.
They are trying to recycle people's breath into biofuel, they specifically want to recycle the breath of airport passenger to biofuel to generate energy to be used in the airport's diesel cars and heating system.
Scientists are planning to start the project at Liverpool John Lennon Airport.
The new piece of revolutionary technology called "the Eco-Box", developed by Origo Industries will capture the CO2 exhaled by airport travelers and convert it to fuel.
"The project at the airport is an early trial of a system which we believe could have a significant impact on the way companies today can obtain fuel and manage carbon emissions," said Iain Houston, Origo's CEO and founder.
The company's goal is to generate and produce 24,000 gallons of fuel, to heat the water and the airport. In the next trial, they want to expand the project to over 389,000 gallon, providing around 800 gallons of biofuel each day.
Source: palscience.com/future-technology/your-breath-could-generate-energy/
The Eco-Box" technology will transform our breath in energy

,
Short URL: http://solar-magazine.com/?p=458
Posted by
solar-magazine.com
on Mar 22 2011. Filed under
_featured slider
,
INDUSTRY
,
Technology
. You can follow any responses to this entry through the
RSS 2.0
. You can leave a response or trackback to this entry