Alternative sources of energy to generate power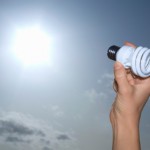 Alternative sources of energy are clean and green but the catch is they generate less energy compared to fossil fuels. So now the scientists are trying to use different sources of alternative energy at the same place and same time to generate power. Attempts are being made to combine two forms of external energy sources such as light and heat or light and vibration to generate external energy so that enough energy can be collected for practical use. Fujitsu Laboratories have now succeeded in using hybrid energy sources to generate power. Fujitsu Laboratories wants to provide this technology for commercial use by the year 2015.
Fujitsu Laboratories are working extensively in this regard, and to generate electricity both from heat and light, they are creating a new hybrid energy harvesting device. Energy harvesting is the procedure used in accumulating energy from the environment. Later on that energy is transformed into electricity. Fujitsu is not doing something innovative. Work in this field was done by scientists earlier too. But hybrid energy could only be generated by combining separate devices and that proved costly so it was commercially unviable.
Now Fujitsu laboratories confirm that two separate devices are not needed to generate electricity from a hybrid source. How were they successful in reducing costs? They used organic materials for creating hybrid device. This lowers the cost, and the new technology is showing promise to convert energy from the environment to electricity. The device from Fujitsu Laboratories is just a one-piece device that catches energy from the most common form of energy available for large scale use.
Source: www.alternative-energy-news.info/power-from-two-energy-sources/
Alternative sources of energy to generate power

,
Short URL: http://solar-magazine.com/?p=454
Posted by
solar-magazine.com
on Mar 22 2011. Filed under
_featured slider
,
INDUSTRY
,
Technology
. You can follow any responses to this entry through the
RSS 2.0
. You can leave a response or trackback to this entry