South Korean companies are taking interest in wind turbines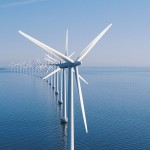 Wind energy currently meets a mere 1.5% of global electricity generation. But scientists foresee a lot of potential in this alternative energy source. Asian countries are also trying to embrace clean and green energy. South Korea is going for an ambitious off-shore wind farm amounting to $8.3 billion. This project will be executed at the western coast of the Korean peninsula taking a time period of ten years.
Currently South Korean companies such as Hyundai Heavy Industries, Samsung Heavy Industries, Doosan Heavy Industries & Construction, and Hyosung Corp. are taking keen interest in the production of wind turbines.
According to the Ministry of Knowledge Economy (MKE) this project will erect 500 wind turbines in the West Sea off the Jeolla province. All these turbines are supposed to produce 2,500 megawatts of energy a year. This amount of electricity will be sufficient for 3.5 million Busan residents for a full month. MKE director general Kang Nam-hoon says, "Basically, the scheme is composed of three phases. By 2013, we will have raised 20 5-megawatt turbines and add 180 by 2016 and 300 more by 2019."
Source: www.alternative-energy-news.info/south-korea-off-shore-wind-farm/
South Korean companies are taking interest in wind turbines

,
Short URL: http://solar-magazine.com/?p=436