Biodiesel fuel from 'chicken feather meal'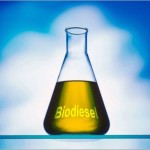 If we go by the stats, every year 11 billion pounds of poultry industry waste accumulates annually, because we have gigantic appetite for poultry products. They can't be stuffed into pillows. Mostly they are utilized as low-grade animal feed. Scientists in Nevada have created a new and environmentally friendly process for developing biodiesel fuel from 'chicken feather meal'. Professor Manoranjan 'Mano' Misra and his team members at the University of Nevada discovered that chicken feather meal consists of processed chicken feathers, blood, and innards. Prof. Misra has been honored as the 2010 Regents' Researcher by the Nevada System of Higher Education Board of Regents.
Chicken feather meal is processed at high temperatures with steam. This feather meal is used as animal feed and also as fertilizer. Chicken feather meal has high percentage of protein and nitrogen. The researchers have paid attention to the 12% fat content of the chicken feather meal. They have arrived at the conclusion that feather meal has potential as an alternative, non-food feedstock for the production of biofuel. They have extracted fat from chicken feather meal using boiling water and processing it into biodiesel. Another advantage of extracting fat from feather meal is it provides both a higher-grade animal feed and a better nitrogen source for fertilizer applications.
Stats tell us that if we take into account the amount of feather meal generated by the poultry industry each year, researchers could produce 153 million gallons of biodiesel annually in the U.S. and 593 million gallons worldwide.
Source: www.alternative-energy-news.info/fuel-from-chicken-feathers/
Biodiesel fuel from 'chicken feather meal'

,
Short URL: http://solar-magazine.com/?p=440