Solar tracking system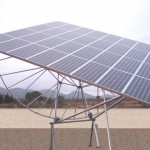 A German owned company IMO has set-up a plant in USA that will make the largest solar tracker solar panels to tap solar energy. As per Ruediger Unverzagt and Klaus Pless, respectively the CEO and vice-president of this company, these solar tracker solar panels are the largest in Summerville in South California. IMO is looking forward to commercially sell these solar tracker solar panels. Despite being huge in size, they are very easy to assemble and one can assemble them just outside the building where they are to be installed.
IMO is hopeful that USA will embrace this source of energy because with its help, you can avoid the emission of carbon dioxide by 87,000 pounds that pollutes the air on an early basis due to burning of 34,000 pounds of coal. With the solar tracker solar panels, IMO will not need 42,000 kilowatts of power, equal to the power need by almost four households on an annual basis. It also saves the environment by the same extent as it would if 6,700 more trees are planted or the pollution is reduced by the extent caused by a vehicle traveling 106000 miles.
The oversized solar panel is resting on a rotating pole. This solar panel is not stationary but keeps on moving with the sun. This way panel catches maximum solar rays from the sun. Stationary solar panels remain fixed to a single spot. They catch whatever sunlight comes to their direction. But rotating solar panels following the sun's daytime path can capture 20 or 30% more solar energy. They keep on shifting their stand to capture more and more sunlight. You can compare them with sunflowers: sunflowers change their position with the position of the sun.
Source: www.alternative-energy-news.info/solar-tracker-solar-panels/
Solar tracking system

,
Short URL: http://solar-magazine.com/?p=409
Posted by
solar-magazine.com
on Mar 20 2011. Filed under
_featured slider
,
INDUSTRY
,
Solar Thermal
,
USA
,
WORLD
. You can follow any responses to this entry through the
RSS 2.0
. You can leave a response or trackback to this entry