The efficiency of polymer solar cells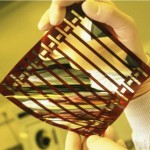 A report recently published in an online journal called Advanced Materials points out that a process has been developed by the researchers at the Iowa State University and the Ames Laboratory that can produce thin and constant light absorbing layers on textured substrates. This increases light absorption by polymer solar cells, thereby increasing their efficiency and enabling its best use.
An assistant professor of electrical and computer engineering at Iowa State University Department of Electrical and Computer Engineering and an associate of the US Department of Energy's Ames Laboratory, Sumit Chaudhary said that researchers are making polymer cells that have the capabilities of capturing more light within the ridges. This includes the light they absorb from outside and the light that gets reflected from one ridge to another. These solar cells are made up of polymers that are lightweight, easy-to make and flexible. Their functioning is improved by a textured substrate pattern that lets the removal of a thin light absorbing layer. As the light absorbing layer goes through the small ridges, it maintains good electrical transport properties in the cells.
The substrate and coating technology is being patented by The Iowa State University Research Foundation Inc. Once the technology is patented, it will be licensed to solar cells manufacturers. They can then make the proper and the best use of it.
Source: www.alternative-energy-news.info/best-use-of-polymer-solar-cells/
The efficiency of polymer solar cells

,
Short URL: http://solar-magazine.com/?p=368
Posted by
solar-magazine.com
on Mar 17 2011. Filed under
_featured slider
,
INDUSTRY
,
Solar PhotoVoltaics
,
Technology
. You can follow any responses to this entry through the
RSS 2.0
. You can leave a response or trackback to this entry