Is hydropower a renewable source?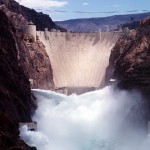 In New Hampshire a major transmission project that was announced last year is spurring discussion about what should qualify as renewable energy and what the goals of renewable portfolio standards ought to be.
The project, known as The Northern Pass, is set to construct a 140-mile high-voltage direct current (HVDC) transmission line from the Canadian province of Quebec into neighboring New Hampshire. The line will carry 1200 MW of emission-free electricity from Hydro-Quebec's hydropower facilities into the state of New Hampshire and through to its neighboring New England states.
The issues are, or course, manifold.  First, there are the NIMBY opponents who worry that a large transmission line like this will wreak havoc on property values in northern NH: ruining viewsheds, endangering wildlife and impacting the tourism trade that the region relies upon to boost its economy.  Opponents have created a website that lists all of their concerns with the clever title, "LiveFreeorFry.org." (The New Hampshire state motto is "Live Free of Die.")
But beyond the transmission line itself, deeper issues are coming to the surface.  First, some say large-scale hydropower, the power source that makes up 98% of Hydro-Quebec's portfolio, is not a renewable resource.
"Small-scale hydro, especially in-stream designs that don't require damming and flooding but capture energy as it flows past a turbine in the water without blocking the flow, are quite definitely part of the clean energy solution. Massive hydro projects that completely rewrite an ecosystem–not so much. Hydro-Quebec tends toward the latter," said Shel Horowitz, Green Marketing Consultant author of Guerrilla Marketing Goes Green.
Horowitz, who said he was arrested for demonstrating against Seabrook NH's nuclear facility in 1977, also admits that he isn't an expert on hydro. Nonetheless, he isn't a fan of the flooding that results from damming. "There are very big environmental impacts to large dams," he said.  Horowitz brought up the Quabin reservoir, which serves as the water supply for the city of Boston.  He explained that back in the 1930s four towns in western MA were evacuated and then flooded to create that reservoir. "Here in Western, MA, the decision to flood those four towns is still being talked about in some circles as grounds for secession from the state," he said.
Source: www.renewableenergyworld.com
Is hydropower a renewable source?

,
Short URL: http://solar-magazine.com/?p=199
Posted by
solar-magazine.com
on Mar 14 2011. Filed under
_featured slider
,
INDUSTRY
,
USA
,
WORLD
. You can follow any responses to this entry through the
RSS 2.0
. You can leave a response or trackback to this entry