Cargo ships moved by renewable energy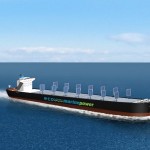 For hundreds – even thousands of years – humans have harnessed the energy of the wind to move ships across the seas.  But now this ancient idea is improved by tapping into solar energy, as well.  Eco Marine Power has developed technology it calls the Aquarius Solar Wind Marine Power System, which helps reduce the carbon emissions associated with moving huge cargo ships using solar energy and wind power to replace some of the fuel consumption.
According to the company's official website:
The Eco Marine Power Aquarius System will allow ships to utilise wind power and solar energy in order to reduce fuel consumption and lower noxious gas emissions. In addition ship owners and operators will be able to reduce the C02 footprint of their fleet and employ the Aquarius Wind and Solar Power System on a variety of ships and vessels.

The Aquarius System is being designed so that it will require little attention from the ships crew, will be relatively easy to install and offer an attractive ROI (Return on Investment) for shipping companies. The system will utlise solar modules and rigid sails connected to a central control and monitoring system. A prototype version of the system is planned to be ready by early 2012.
In short, the tremendous amount of fuel and energy it takes to move massive cargo ships across the oceans can be minimized using wind and solar energy.  Lest ship operators be worried about maintenance and operation of the solar wind marine power system, it runs practically on its own with little to no work required by the ship's crew.
Although the first market for which the solar wind marine power system is aimed is cargo ships, Eco Marine Power has plans to use the same technology to move passenger ferries and other smaller vessels.
Source: solarpanelspower.net
Cargo ships moved by renewable energy

,
Short URL: http://solar-magazine.com/?p=142
Posted by
solar-magazine.com
on Mar 10 2011. Filed under
_featured slider
,
USA
,
WORLD
. You can follow any responses to this entry through the
RSS 2.0
. You can leave a response or trackback to this entry